"While I hate to stop the prototyping frenzy of productivity... we should probably TALK about what this robot looks like." The Robowrangler shop was a hive of activity this afternoon, but after our team dinner we huddled up for the first time since Day 4 and talked "big picture."
It's Day 8... on Day 1 we made a list of ALL the actions a robot could take. Did we get ALL of them? NO, absolutely not. At the start of every Robowrangler huddle I ask the same question: "Did anyone think of anything we missed for our 'Big List of Robot Actions' or are we covered?" At almost every meeting, we come up with a few more. Today's meeting yielded 4 or so new ones.
If your team makes a list of robot actions, do you update it? Do you make the changes based on surprising Q&A answers? What about changes based on things you see posted by the FRC community?
You should always be adjusting both your goals, and the path to your goals based on new information.
Semi-Related, Self-Indulgent, JVN Side Ramble...
Jump below to "Back to the Blog" if you zone out:
How many teams do their game analysis on Day 1, and then never update it?
How many finish their scoring analysis during the first week, learn from it, then never go back?
What if you get NEW information? How many times have WE been guilty of these same sins?
If we're prototyping, we should probably take that data and use it to refine our models for how the game will play. If we finish our robot and it doesn't work as well as we expected, maybe we should see if our entire plan is flawed!
In 2017 how many teams built ball scoring robots?
I bet most of them said "we'll just get the 40kPa bonus, and it will be worth it."
I bet most of those teams said "we'll get most of the bonus in autonomous mode. Our robot will be able to shoot in at least 30 balls during autonomous."
I bet most of those same teams made that projection during the first week... I bet they did it before ever really doing significant shooting... I bet they did it based on benchmarks in their HeadCAD from historical data from challenges which were VERY different from last year's ball scoring challenge.
I bet they built entire strategies around that plan.
I bet most of those strategies would fall completely apart if the robot couldn't get those 30-40 balls in autonomous mode.
I bet... most of those teams never went back to their strategic model for the game.
If they did, I bet they'd realize their scoring math actually shows they'd be more successful taking the shooter entirely off the robot, optimizing it for something else and NEVER scoring a ball during a match.
Is anyone going down that path this year? Have you made early decisions without prototyping data? Will you go back to update those decisions?
Wait... you say "yes" you're going to... but is it built into your process?
It's one thing to say "JVN, we're totally going to do that... why would you ever think otherwise!" and another thing to say "we always do this at the start of week 4. It's on our calendar, and we do it every season. If we need to rebuild the robot that's not a bad time to start." (I just set a calendar reminder for 1/26).
This season the Robowranglers already had our first instance of: "we need to rethink our scoring model based on what we learned from this prototype, and see if it changes any of our priorities." It happened on Day 8. It won't be the last time this happens.
Back to the Blog:
As expected, the early part of the meeting was spent working on our prototypes. One of the three intake groups decided "we're done learning from this one, at this point we're just playing with it and trying to make it work... even though we hate it and it's made from scrap wood." This is a really cool and responsible decision.
Sometimes we have groups fall into the trap of: "we built a prototype, so we should keep working on it and making it better." That's silly. It's not like that prototype intake is going onto the final robot - it's not even black. That group split up and joined other groups working on learning the next lessons.
At some point we're done with every prototype. When that time comes (even if it comes very early in the prototype's life) you can silently thank it for it's lessons... and move onto something else. "...you must kill all your darlings."
On Day 8 the CNC'd intake prototype was ready for assembly and testing. We also spent more time refining the intake prototype built off of Practice-bot Batman's intake. Both of the, taught us lots of lessons.
At around 6PM we took a break and the team had dinner. I've been on this team since 2007, and I'm still not accustomed to how much we get fed. I hope I never stop being surprised by the generosity of our parents, teachers, and community. The secret to a happy team? A well-fed team.
After dinner... AUTO-PALOOZA!
Why is it called auto-palooza? I don't know. Sometimes we just give things silly names. Bryan says I personally do it as a defense mechanism to try to be less intimidating. He told me: "When you use wacky terms like 'Plowie McPlowface', it's like Darth Vader putting on a silly hat. He's still Darth Vader... but seems more approachable." I don't know how I feel about this analogy.
If anyone sends me drawing of Darth Vader in a silly hat, I will definitely include it in future blogs.
If anyone sends me a picture (or drawing) of BJC in a silly hat... same deal.
Auto-palooza went really well. It was convenient that our students were wearing shirts from other teams. During the autonomous role-playing we had cameos from 148 (of course), 33, 118, 254, 2337 and 3310. Madison was also wearing a "Canada" shirt: at various times this meant she was roleplaying for "ALL of Canada", 1114, or 3683 (DAVE! We really love DAVE.)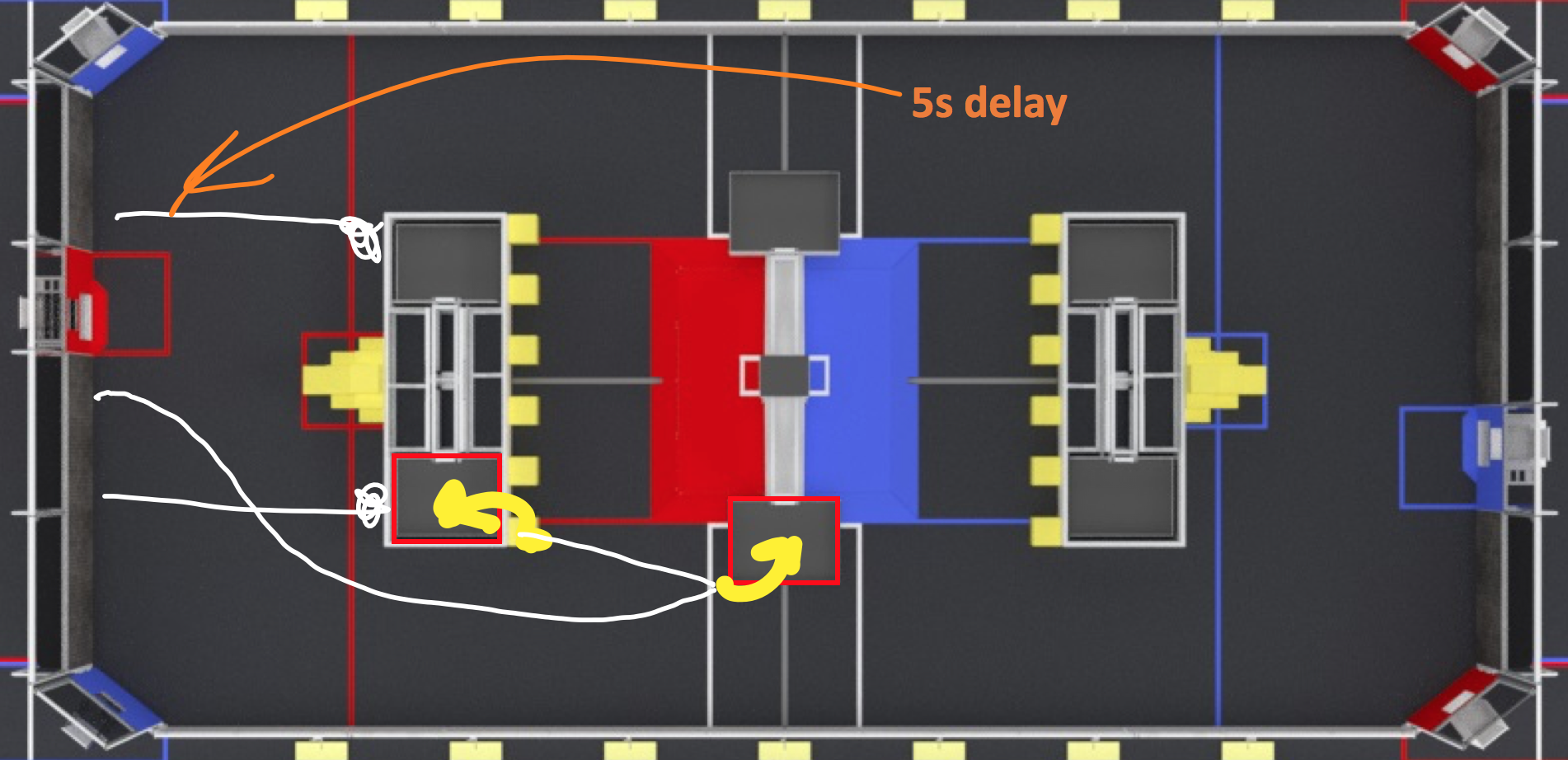 I think we all knew there were going to be a lot of autonomous mode options for our robot this year, but this exercise certainly emphasized the point. Making sure all the modes are consistent and "tuned" will be the real challenge.
FRC fields in the past have varied WILDLY from field to field, also from red-side to blue-side. We only get so many practice runs to test things, and some of those runs are taken up by things like: "ohh, we forgot to plug in the intake motor when we rebuilt it". Combine this variance with the multiple scenarios that will occur in each auton due to the field color randomization. Plus take into account all the partners we want to be able to adapt around... it turns into quite a challenge. We're not scared of challenges, and it's nice to know about one on Day 8...
We're going to run into a lot of strategist vs. programmer discussions which go: "So how much do you trust the 'Red Side, Left Side, Switch Left Scale Right - Elite Elimination Opponent' option? What do you mean we've never run that particular option on this field! Of COURSE that's the one we would need right now."
Our designers on both the EE/Prog and the Mech/Sys sides are already working to determine how to build a system that is repeatable with minimal tuning... but still provides us all the options the strategists will need. Maybe it means the robot will have lots of sensors to detect the field around it?
The Robowrangler's goal for the engineering competition is no secret...
One of the "weird" things about being on a team like ours, is that we already know we want to play at the highest levels of the game. If we're talking about something very difficult which will have a very powerful impact on the match - it tends to be a straight forward discussion. Sometimes we will talk in terms of "effort vs reward" for challenges like this. In these games, some challenges are VERY high difficulty, but VERY high reward. (VERY VERY high reward). Some teams might say "that is just too difficult, and we don't need to deal with it." I envy those teams.
If the reward is great enough... can we ever decide not to at least try to achieve the difficult task?
On Day 8, the discussions about tasks like that go as follows:
"Well, it's a HUGE advantage if we pull it off."
"Yeah... but it's REALLY hard."
"What if the Simbots do it? Do we lose to them?"
"Yep, they'd kick our butts. But I don't know if they'll be able to do it either."
"But what if they do?... Then we lose. So we need to at least spend some time working on it and see if it is possible. If they pull it off, we need to pull it off. We don't want to lose before we even get there."
This is both vindicating, since our challenge is clear... but can also incredibly daunting.
We know the other crazy teams are working on it, so we need to work on it. They know that we know they're working on it... so they need to work on it harder than we are. We know that they know that we know that they know... so WE need to work on it even harder.
This is how FRC "arms races" happen. This is how can-grabbers get down to the sub 1/10 of a second. This is how mini-bots go up the pole faster than anyone ever contemplated. This is how "beyond the edge of reason" designs come about... and it is REALLY COOL. The top levels of play in this competition involve teams driving each other to greater and greater heights of excellence. It is results in incredibly inspiring moments for the students working on those challenges, and results in amazing-to-watch feats of engineering which can inspire everyone in the program.
Why do I talk about FRC arms-races now?
When your team did your version of auto-palooza... did you come up with the "crazy" auton? Did you decide to try it, or did you decide to ignore it? What will you do if someone else pulls it off?
Knowing that, how do we spend our time on the Robowranglers?
The mentors updated James' Segway so he could safely participate in auto-palooza!?
He decided not to, sadly.
(This was a two rant blog. I apologize to my dozen readers. If you've made it this far I promise sometime in the next few weeks I'll make it up to you by doing a blog which reads: "We CADed stuff. I haven't slept. Leave me alone." Brevity is the soul of wit.)