On Day 45 of the Robowrangler's 27th season, we unveiled our robot: "Uppercut" to the Greenville community. Later that night, we unveiled it to the world.
"The robot is the campfire around which the tribe gathers." - Woodie Flowers
Even after 12 years in Greenville, I'm still in awe of the support this team receives from the community. Our open-house always draws quite the crowd: curious supporters from our sponsors, interested members of the school district, "robot fans" from the area, folks from the community who follow the Robowranglers, and of course... Family and Friends of Robowranglers. Everyone wants to see the robot in action for the first time.
This is our new Superintendent's first "Robowrangler Unveil" and we were honored to have him experience it.
I don't think he really knew what to expect until he saw Uppercut for the first time and heard our students talk about it. The continued support from the administration is incredible.
This year, we created a special robot unveil version of the "About Us" page on the Robowrangler website. We wanted to help those folks "just arriving at the campfire" get to know us a little better.
Of course, most of the FRC community just saw it like they always do, on YouTube in the unveil video...
The Design of Uppercut
Our goal this year was to be one of the fastest cube scoring robots in the world. Everything we do should be optimized for speed. How do we do this?
Fast "touch it, own it" intake for grabbing the cubes.
Fast Lift which goes from bottom to scoring height as quickly as possible.
Good "control" of the cubes at all times. "Dropped Cubes waste time. We don't want to waste time."
Fast Drivetrain, Good Acceleration. To achieve this, we focused on making the robot as light as possible. While we're always evolving, this robot is significantly lighter than typical. It's going to be between 30 to 50 lbs lighter than most others on the field, and will have the speed to show for it.
We also wanted to be able to climb the bar at the end of the match, and we wanted to lift a partner to ensure we can get the special bonus for this. We designed in a "Help a Partner" End-Game Climber.

To do this we have a "Robot-Wrangler" mechanism to grab firmly onto partners, and a special climber mechanism which lifts both robots without putting lots of load on our robot. If our robot doesn't need to handle this load, it can be lighter, and faster!
Uppercut's Design Tradeoffs
We want to be able to go under the scale when it is in its lowest position, but still able to reach up high? How do we balance "height vs. reach"?
We want to be as light as possible, but still be play the game as well as possible. How do we balance "functions vs. weight"?
We want to be tough, but light. How do we balance "weight vs. robustness"?
We want to be able to precisely put the cubes in the goals to maximize how many fit, but we also want to score them fast? How do we balance "precision vs. speed"?
We want to be a small robot to slip through "crowded" areas on the field, and also to be lighter. However smaller robots have smaller footprints and are more "tippy" if they reach up high. How do we balance "size vs. stability"?
As mentioned in #5, we want to be small, but we have a lot of things to "fit" inside the robot. How do we balance "size vs. packaging area"?
While we're always reevaluating the trade-offs we make and the results of our problem solving process... right now we feel happy with the overall robot design. The only thing we know, is that it will change.
How will it evolve for the rest of the season? Only time will tell!
Celebrating & Moving Forward
The unveil of Uppercut is a celebration moment for the Robowranglers. Sharing the results of our hard work is a great feeling, and we all bask in it. We also try to remember three things during this time:
First - Keep working. The season isn't over. We need to keep pushing.
Second - We had a success. We have a functional robot. Success does not define us. "It's not going to be 'all success' from here on out. The hard part is just beginning."
Third - Remember why we're really doing this.
Life Lessons
Over the past year, I've been heavily meditating on the question of: How do we define success for an FRC team? This lead naturally to: What are the most important lessons we teach? What is the most fundamental "if you learn nothing else, learn this" lesson...
Robowranglers celebrate failures as opportunities to learn, grow and improve.
Robowranglers embrace challenges instead of avoiding them.
Robowranglers are comfortable trying things that might not work.
Robowranglers are comfortable solving problems that have no right or wrong answer.
Robowranglers know how fulfilling it can be to work hard.
Robowranglers chase excellence in everything we do.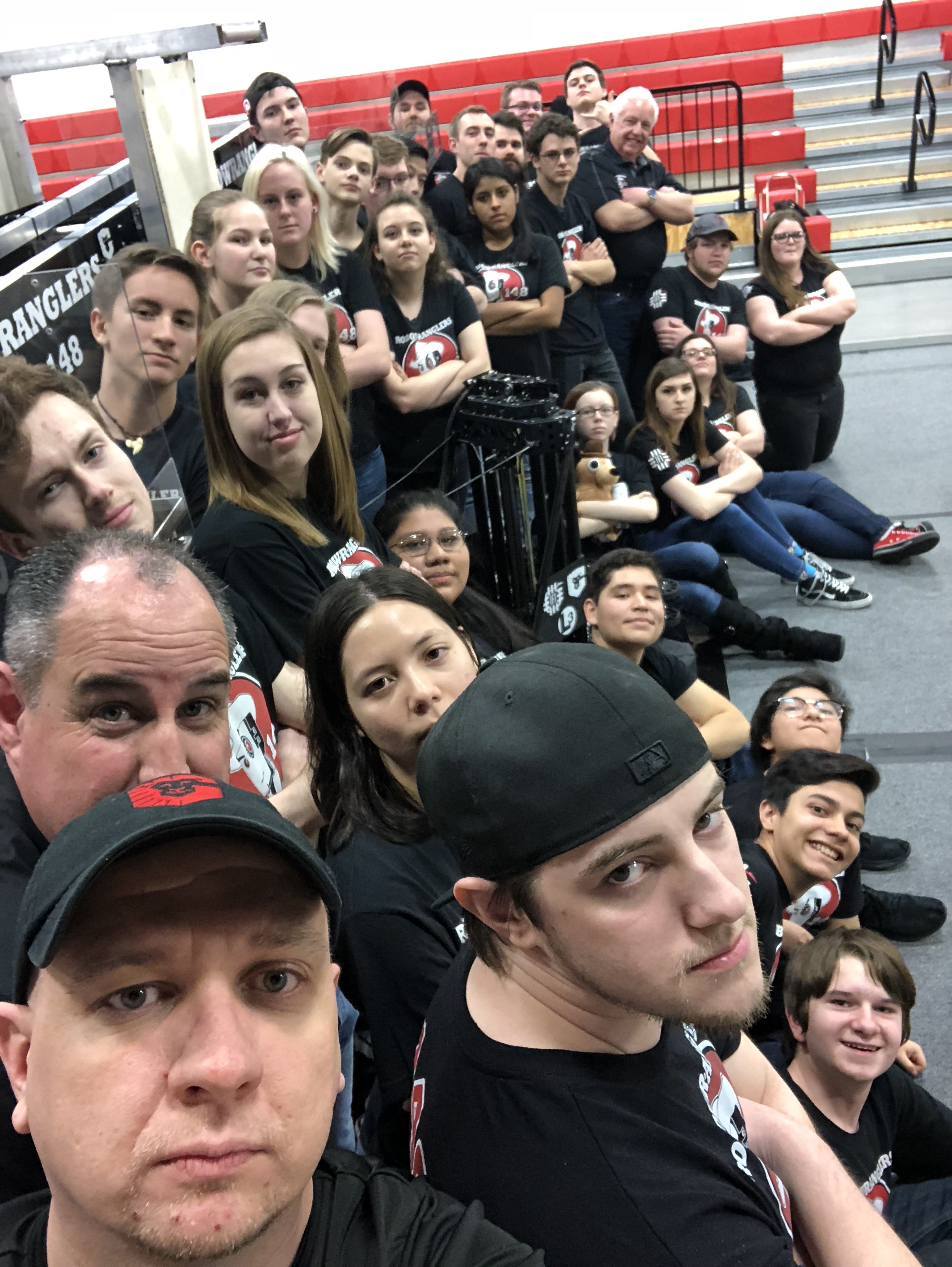 The "Robot-Wrangler"
One of the most popular aspects of unveil video was getting to see the "Robot-Wrangler" mechanism in action. We really appreciate 7179 and 3310 coming to visit on Day 44 and doing some special video shoots with us. The wranglers wanted to test with more robots of different configurations, and wanted to discuss the mechanism with some "outsiders" to get their perspective on it. I think both teams enjoyed "taking a ride."
The big question we get: "Does it work?" It works.
I guess we won't know until Dallas how well it works. We're optimistic about it. Our testing has been... unkind. It keeps on working, and keeps on getting better.

The next big question: "How does it work?"
The Secret of the Robot-Wrangler
We're surprised by the reaction from the FRC community to the Robot Wrangler. Maybe we were too subtle in showing how it works. Some people figured it out, but others seem to be fixated on how we're grabbing the bumpers of other robots. That's not quite true...
My favorite part of this solution, is that if we told someone this in December 2016, they'd look at us like: "Are you stupid?!" But after the 2017 season, everyone will be totally cool with it.
Interested in taking a ride with us this season? Send someone by the 148 pit and we'll get you all setup.
What's Next?
Lots, and lots, and lots of driver practice and scrimmages. We've got a lot of time on #3 and a lot of time on #2, but we are still barely scratching the surface for what these drivers will be capable of by the time we hit the field in a real match.
More autonomous mode tuning on the #3 robot.
Validate the #3 robot is ready to come out of the bag fighting in Dallas (it won't, we'll end up doing some upgrades... but we try to prep it as though it was going directly out to battle).
Get as many spare parts and assemblies prepped as we can.
Bag the #3 robot. Bag the spare parts.
More spare parts manufacturing (for the #1 and #2 robots).
Complete the retrofit of the #1 robot (it is the furthest behind).
Upgrade the #2 robot's Robot-Wrangler and Climber (It feels SOOOOO good to be able to mention the Robot-Wrangler in an update).
More autonomous mode tuning on the #2 robot.
Organize our pit setup. Optimize it for this year's robot and spare parts.
Start the CAD for the Mk7 intake. We already have changes we want to make for Dallas. We'll carry in an upgrade intake in our "Withholding Allowance" (Spare Parts Allowance) if we decide the Mk7 is better.
Take a few days off. Sleep. Make Healthy Choices.
I heard Black Panther came out... is it good? I've been STUCK AT THE HIGH SCHOOL and haven't seen it yet.
Are my non-robot friends, still friends of mine? "It's been a few months -- are we still friends? Wanna hang out?"
Did I mention sleep? I think sleep is "what's next."