Let's try something new. I'm going to blog a "stream of consciousness" narrative of the 2018 Dallas Regional from my perspective. Check back over the next three days for the latest Robowrangler updates. Let's see how this goes...
LIVE BLOG FAIL!
UPDATE: so after we got the robot running and it started going out for practice matches, things got "busy" for me. I expect things will be the same tomorrow and Sunday. Since everything is iterative, including blogging: I'm going to wave off. I promise Ill do a long "Post Dallas Recap" blog next week.
Until then: follow along here.
2:50PM
Went out for a practice match with our friends 7179. Successfully hit a two cube auton (left switch, left scale - we line up on the right side). Had a good scoring run; then successfully had the first two robot lift of the event!
7179 - Crossfire: is not only a devastating scoring machine, they seem to enjoy riding the Robot Wrangler!
(For all those who doubted... YES it works.)
2:06PM
Went out for a practice match. Gyro didn't calibrate correctly and so auton went into "party mode!" Some issues with the intake which need to be tuned in. (Small variable tweaks.). Still scored 9 cubes and hung successfully.
Came back to the pit and struggled to get connection with the robot to fix the gyro issue. I guess we had to update firmware on like 5 different devices and it is causing us to struggle. They say it's all fixed now.
1:05PM Practice Day
Buttoning up the robot and hitting the field for the first time!
12:10PM Passed Inspection!
Robot weight:
93.3 lbs
9.4 lbs - red bumpers
9.6 lbs - blue bumpers
10:28AM
Mk7 Intake going on!
10:22AM
Overheard from the 1296 pit: "Does anyone know why JVN is wearing a little mermaid shirt?"
Tradition!
10:16AM: Practice Day
Mods are going well. We are 3/4 through the list and most of the hard stuff is done. Mk5 Robot Wrangler is installed. Mk7 Intake is fully assembled and ready for install.
The shirt... Dallas 2018
7:55 Practice Day
35 minutes until doors open.
10:30PM the day before:
A Care Package from Spaaaace!
Jess, Madison, Bryan, Emerson, and I met to open up the care-package from 118. We were not disappointed.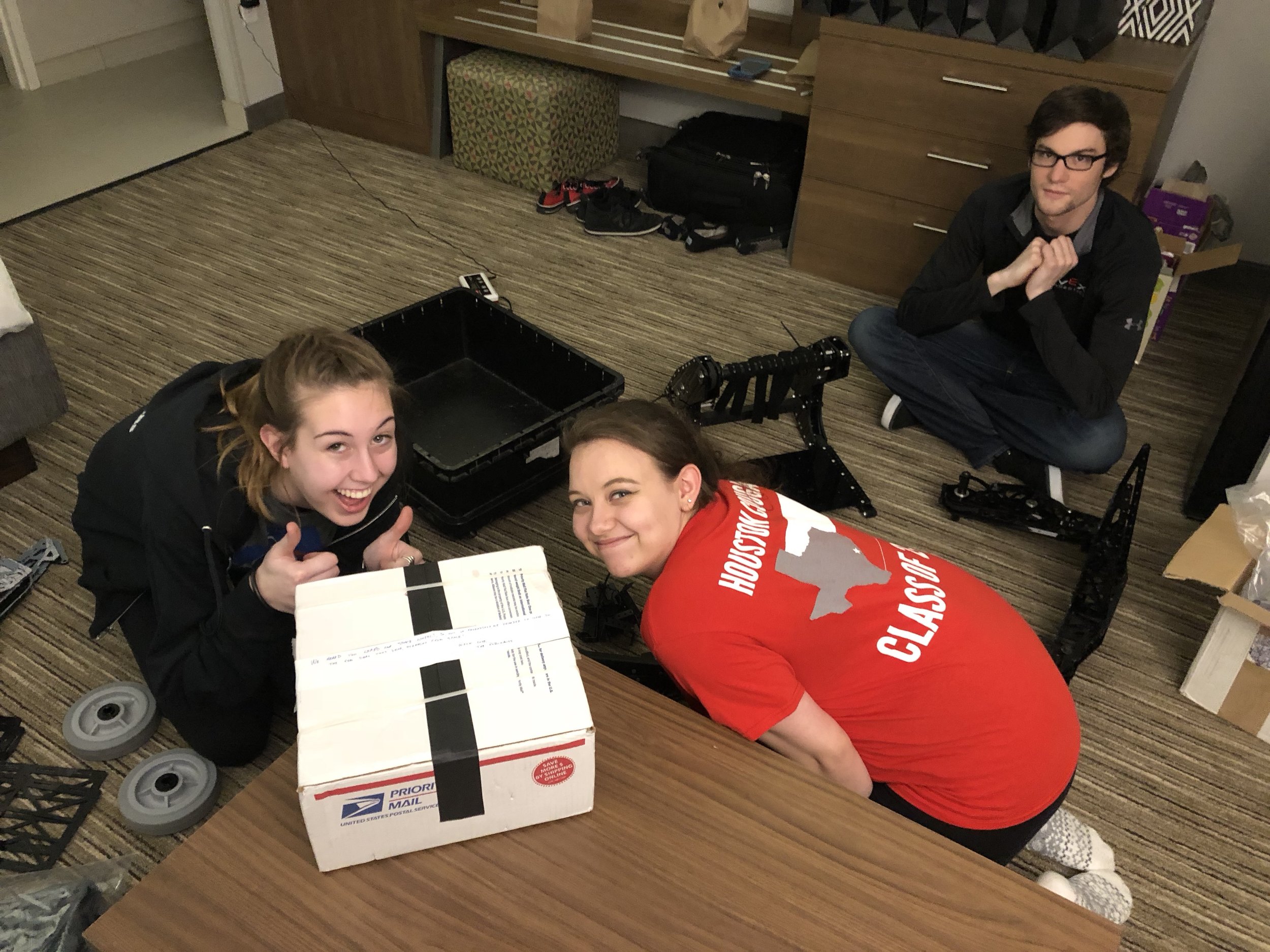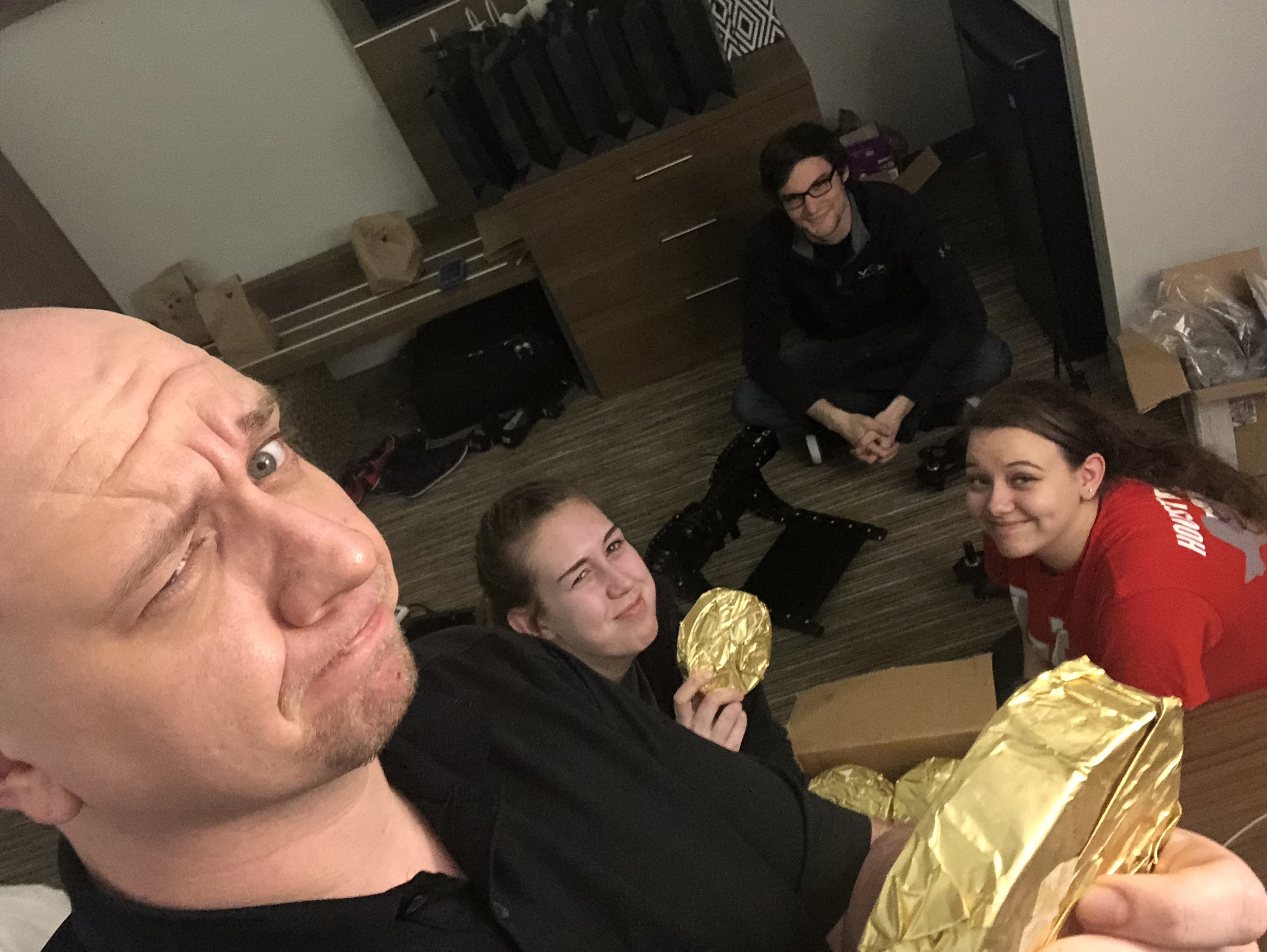 8:30PM the day before (Thursday 3/1):
Load-in
The team has checked into the hotel. Even though Dallas is our home regional, our school still doesn't like us "commuting" across DFW.
Some of our pit crew came over and did early load-in. They said everything went fine.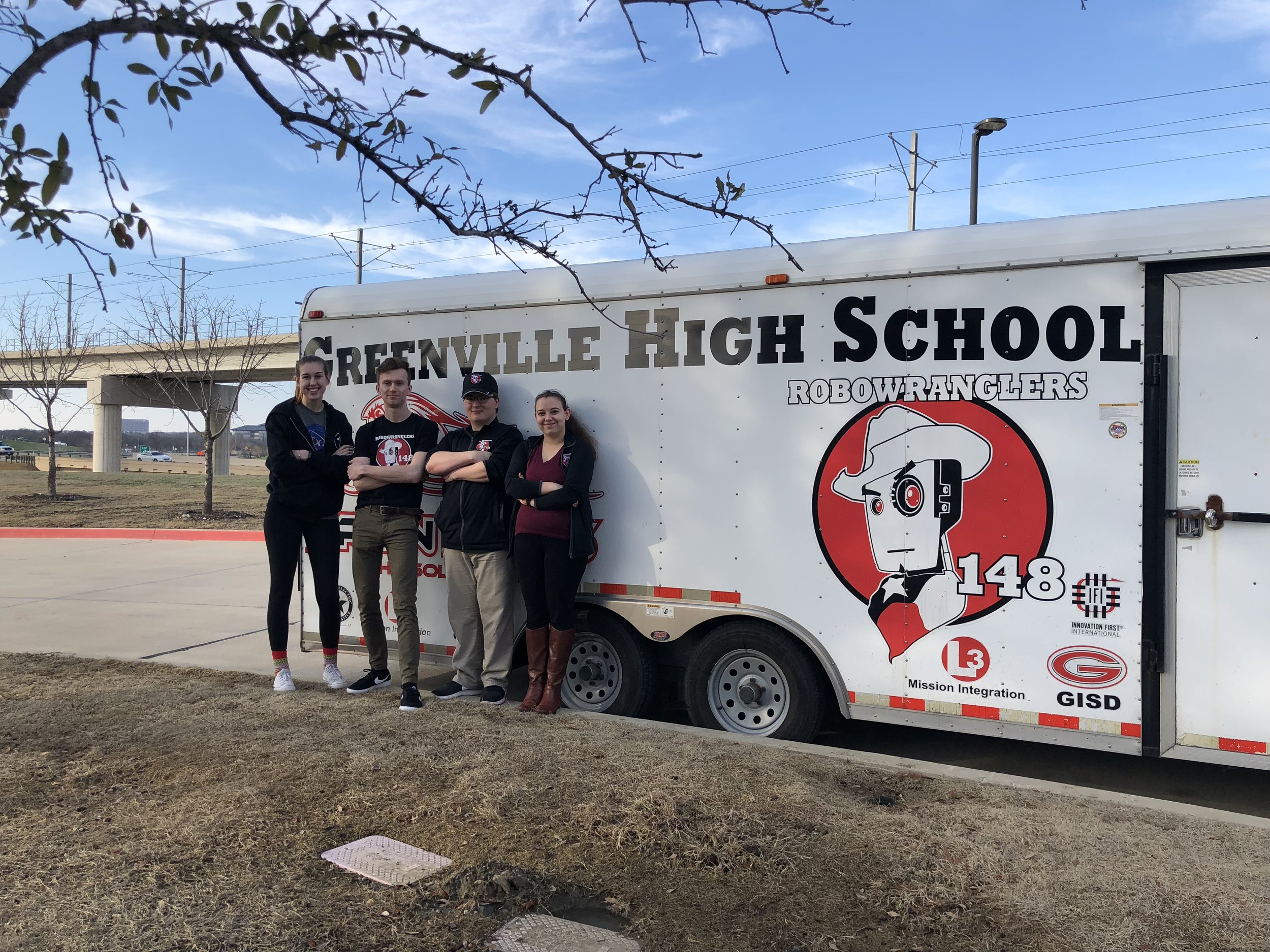 I went over to the venue to grab a package from Parker. Special delivery from 118! When I was there, I couldn't help but swing by our pit...
This is where it started... Newest updates at the top!
To read more about our Dallas preparations check out the Day 55 update.