The Robowranglers had a whirlwind weekend at the Colorado Regional! In what turned into one of the toughest tournaments of the year, we made some new allies, then had an old fashioned Texas shoot-out with some of our oldest friends…
Where are the Blog Updates?
First off... I've been asked by a few people "Why aren't you blogging more?" There are a few reasons for the lack of blog entries.
One: I'm lazy. Frankly this is the biggest reason.
Two: My "day job" has gotten kind of crazy right now, and they expect me to do actual work every now and then.
Three: This part in the season is boring. Boring boring boring. We're not doing a lot of active development. Most meetings have been the same old "practice and code autons" routine.
Four: ____
Five: Did I mention, I'm lazy?
That said... I've been surprised by the reception the blog has had within the robotics community and more importantly within the Greenville community. I deeply appreciate the kind words I've received about my writing, and I'm glad to provide a glimpse "behind the black curtain".
I don't take for granted the fact that my readers have chosen to give me some of their precious time and attention. I'll try to keep things interesting and educational...
On reflection: that seems like an empty promise.
How about this... I promise to keep posting things which amuse me. Is that fair? Let's go with that...
Prepping for Denver
After the Dallas Regional the Robowranglers did a full regional debrief. No matter how successful a competition is we spend time highlighting "what went right" and "what needs to improve."
During my recap of the Dallas Regional I posted a "What's Next" section. Our time since then has basically followed that plan.
The Mk7 intake has a stress concentration in the arms. We found that after enough matches, eventually the arms will snap. Interestingly, the intake still picks up cubes even when damaged in this way. We broke our first Mk7 during our last qualification match in Dallas. We broke our second Mk7 on the practice robot when Uppercut was playing 1v1 against Renegade. (Renegade takes no prisoners).
After Dallas I said we were also going to work on: "science surgical tubing", improving cube "hold" when we have one in the intake, and improving open-field pickups.
So what did the Mk8 intake include?
After testing, we decided NOT to work on improving our open-field pickups. All our ideas would end up adding complexity / weight and we decided we liked the performance we saw during the pre-Denver testing. Instead, we emphasized "cube hold" reliability.
Now when we hold a cube, it is much more firmly held in our intake and less likely to fall out when we're "aggressively" driving around.
At the same time we fixed the failure point in the intake arms, and incorporated a new method of attaching / packaging the surgical tubing we use for spring force. We call the new method "science bands" even though there is no science involved.
We did a LOT of programming and testing. Going into Denver we added a bunch more autons, and tuned our existing "qual match" autons to be more consistent.
Practice
What thing did we do most between Denver and Dallas? Practice. Sooooo much practice. Drills by ourselves. 1 vs 1 drills with 3310. A scrimmage with 5 other teams and 9 different robots. Scrimmage? Yes... scrimmage!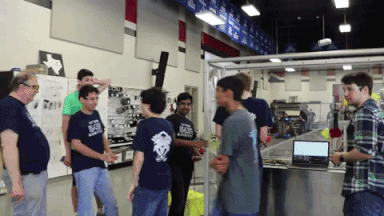 We had scheduled matches (using VEX Tournament Manager of course) we had sound effects (using the Robowrangler sound-board). We had experimental matches... "Okay, 148 v 3310 and each of us get a switch robot of our choice." It was amazing!
The mood in the shop was incredible. During our scrimmage we watched Week 3 regionals, cheered on our #TeamIFI bros, and all our other friends competing. One of the coolest moments came when 7179 played at Lone Star North. After their performance in Dallas, the whole shop was cheering for them. When they played, we all stopped to watch. When they advanced to the Finals and we knew they had qualified for Worlds, the whole place went nuts! 148 <3 Beatty Krunch.
Special thanks, and all our love to teams FRC418 (who drove up from Austin to hang out and practice!) FRC 1296, FRC1745, FRC3310, and FRC5431! It was amazing having so many different teams visiting.
It was also really cool to see all the changes made since Dallas. We're not the only ones who love iteration. I heard some of those teams had even more iteration in store - we'll see how hard they come out this weekend, and if anyone changed anything else after the scrimmage.
Real Talk...
3310 is one of the fastest scorers in FIRST. I hope people are watching El Paso this weekend, since I expect them to put on a scoring clinic.
We learned a lot from our scrimmage day, and from all our practice sessions. As our capabilities improve, the way we play the game evolves. We need to play against people better than us in order to grow. I'm sure everyone who showed up learned something. (Hopefully they learned more than: "148 is a bunch of goofballs".)
With our pit setup already prepped for battle (we just had to re-stock after Dallas) and very little robot iteration work: we didn't have as much work for everyone to do. What do we do with extra bandwidth? We took advantage of the time to spruce up an old friend...
The Champ is Here! Tumbleweed gets dusted off, repaired, upgraded, and put on the field. The word spread fast "THE CHAMP DOES NOT MESS AROUND". (It still drives into walls, very hard. Very, very hard.)
Fun fact, Tumbleweed weighs about the same as Uppercut.
Ohhhh how our design methodologies change. I can only imagine what it would be like to build a new version of that little piece of junk knowing what we know today...
Side Note: 100% of Nine-Sided Robots have won World Championships
Side Note 2: No one hates that robot as much as I hate that robot.
Denver Hype
We originally wanted to go to Denver because it was a regional we'd never gone to, we expected doing a travel regional to Colorado would be fun for the kiddos, and we wanted to meet some new teams. When we found out Denver was going to be one of the toughest competitions in the world - well that was just icing on the cake!
The fact that 5 other Texas teams had the same idea? So much the better!
With the top 4 seeds from the Dallas regional joining some of the best teams in the world - it would definitely be an amazing event. Allegedly, this was one of the most watched regional webcasts last weekend, so this event definitely had some hype built up...
Mile High Fun-Day
One of the best things about Robowrangler travel regionals? Robowrangler fun day!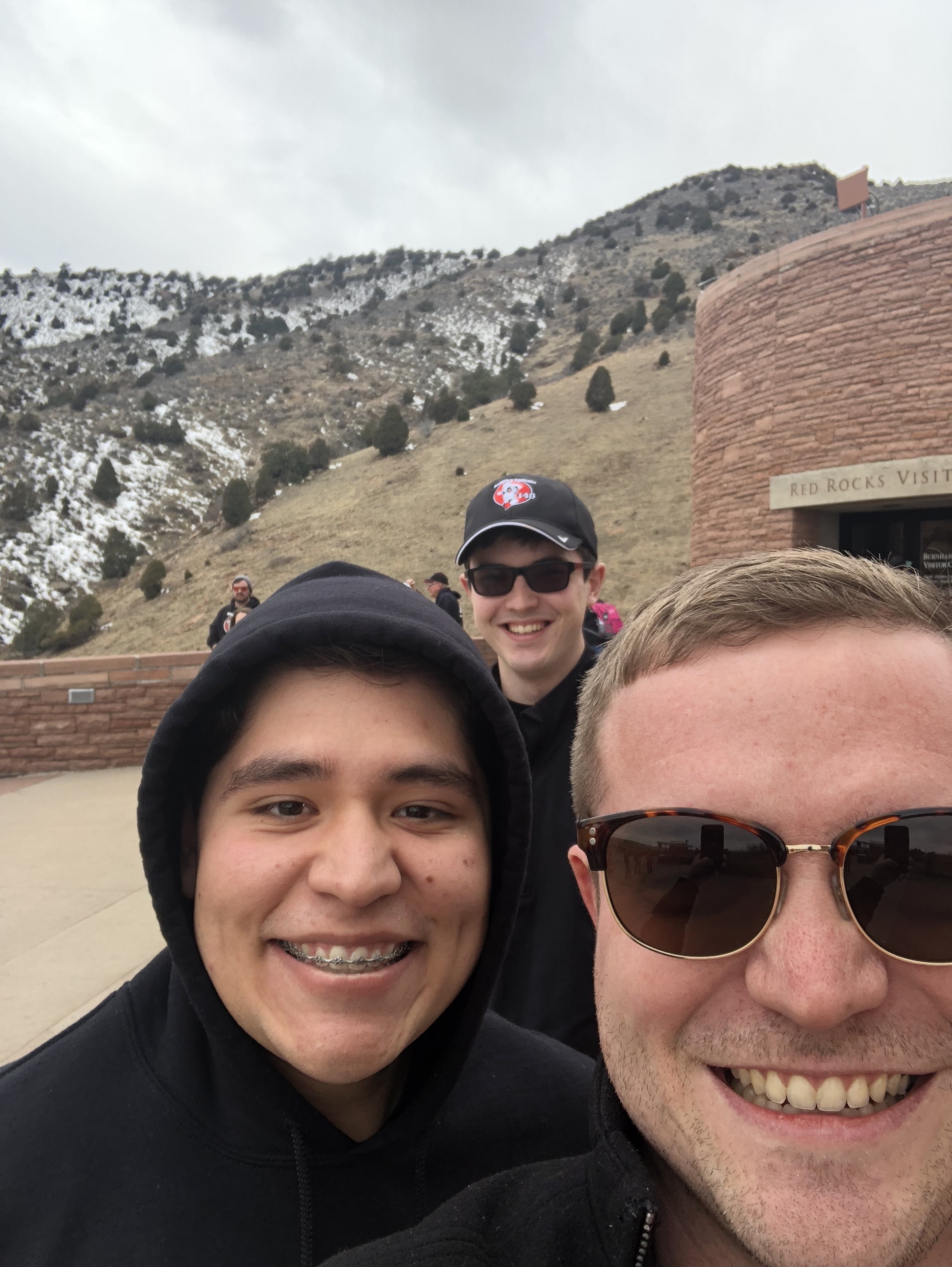 We figure this was our high-altitude training. After competing in the thin air of Denver, we're totally prepared for the Championship in Houston. "Air so thick you can eat it."
Practice Day
Life isn't all coin-mints and hiking... we came to Denver for BUSINESS! On Thursday we jumped right into it like always...
The Thursday robot modifications went very well. New intake. Drive mods. New climber hook. Updated "rigging" in the back. Easy!
We then quickly went through inspection with no problems (although some of our friends didn't fare so well... but that's a story for another time).
The Denver regional is hosted in a hockey arena. It has a great setup, with plenty of seating (I'm not sure if there is a single bad seat in the house)! The kiddos didn't believe me when I said the ice was under the field. I had to walk the drive team over to the edge and show them how they put panels on top of it.
We had some great practice runs, and even did a practice day lift with the Robot Wrangler. We were going out to the field with FRC3374 for a practice match and they basically demanded "Hey, you guys should lift us. We want to be lifted." They didn't realize it required a little bit of prep work...
Our rope group said the 3374 folks celebrated in the pit when they saw us walking over to get them ready. We ended up lifting them in a practice match later that afternoon!
Those guys were great. Chatting with the coach from 3374 is one of the highlights of my trip. We ended up playing a qual match against them and faced them in the semi-finals, but sadly never ended up playing together.
One of my favorite memories from Denver came near the end of the practice day. The event only scheduled a limited number of practice matches, and the schedule finished very early. As such: we were done with practice matches by 4PM. This was a bummer for everyone, but especially for those teams who didn't get to take the field very much. (I heard 1011 had some trouble with inspection, and ended up spending the whole day trying to get ready: hitting only 1 practice match - CRAZY!)
Anyway... near the end of the day, a few teams were camped out on the wooden practice field tuning. 148 ended up tuning some new autons on the wooden field, and we were lined up across from 1339. We weren't working together or anything, but there was just a lot of fun camaraderie between the two teams as we each worked to tune in our autons. (1339 had just completed some significant modifications and were getting them tuned in on the competition robot). These guys were great! Lots of fun to joke around with. It was awesome to get to know them.
Robot Wrangler Attention
In Dallas, the Robot Wrangler got a warm reception from our partners. We spent a lot of the regional explaining it, but most people "got it" pretty quickly.
In Denver... there were teams clamoring for ropes! "Robot Wrangler Ropes are the newest fashion comin out of Milan!" We had teams approach us very early on Thursday: "Want to lift us? We want you to lift us. Come by our pit and get us a strap." I finally had to cut it off, or we would have given away all our rope-making supplies before the match list ever came out!
We really appreciate the kind words we've received regarding this mechanism. I think everyone enjoys showing off something creative, and the Robowranglers are no different. We're proud of our little "spinning velcro flap", and we're thankful for the way the community has reacted.
#MadisonBuilt
We got a little bit of wish-fulfillment at this event... Whenever someone (anonymously) talks about how our robots are #MentorBuilt, or says (anonymously) our students don't do anything: there are typically people who defend us stating "Go by the 148 pit and watch the students, go talk to them... you'll find out the truth."
We joke about: "why don't they say this to our face?"
At Denver... someone did, accidentally! Madison was sitting in the stands watching practice matches by the queuing lane (waiting for us to come off the field) when a group of people sat down behind her.
"Wow, 148 looks really good. It MUST be built by mentors. The students definitely didn't build that. The mentors built that."
So she turned around and let them know "I'm on 148, and I built that."
Unsurprisingly - the folks behind her backpedaled rapidly.
She was worried I'd be upset at her for talking back, and then tried to hide this story from me. (But our teammates loved it so much they made sure I heard about it). Quite the contrary... not only am I NOT upset, she and I decided to openly tell the story with an invitation:
It's sad that some people are driven to say this kind of stuff. If anyone else wants to come tell Madison she didn't work on the robot... she'll be in the 148 pit in Houston: working on the robot. Come say "hi!"
Qualification Matches
The qualification schedule was released early on Thursday evening (maybe because the practice matches were done by 4PM?) so we had lots of time to chat about it before things got "busy" on Friday morning.
The schedule was exactly what we expected. Lots of tough matches. Every match filled with teams we'd never played with before. Matches with good partners. Matches with inexperienced partners. Matches where we'd get to try out different roles. We were very happy.
When we started playing on Friday morning, we came out swinging. Our first two matches were wins, and we got the bonus ranking points in both. As Woodie says: "Your opponents in one match may be your partners in the next." Literally. Interestingly enough our first match was against FRC159 and our second one was WITH FRC159.
We had a great time with 159 all weekend. They were our "pit partners" (they have the pit next to us, and had to suffer the giant Space-Cowboy Mega Pit being their neighbor). They were one of the teams very happy to take a ride on the Robot Wrangler and we were happy to have them!
After these two big matches we felt pretty good, and everything was clicking on all-cylinders. So of course, that's when things started to get a little bumpy...
We would go through our 11 qualification matches almost undefeated - suffering one one tough loss in Q78 to the Robonauts. However, we would only be able to get 4 ranking points in five of those 11 matches.
MAJOR Lesson Learned from Denver: If Murphy doesn't want you to get 4 RPs... you don't get 4RPs. No matter how much you think you've "prepared for every contingency!"
Denver very quickly turned into a 3-robot race where 118, 148, and 1619 were all fighting for #1 seed. It's a testament to how good and consistent 1619 is, that they handily beat out us Texas Invaders and secured #1. (Even though they lost matches to both 118 and 148! 1619's climber was so money money money the RP's kept coming!) While we left a lot on the table, 1619 made it look easy.
The Robowrangler metrics for success are: Have Fun, Make Friends, Chase Excellence - and I feel confident we did all 3. In particular, we made a LOT of new friends in these qualification matches. I have memories of so many partners from our run. Everyone was friendly and the mood was great.
Feeling Good
Overall, we are very happy with our play.
I keep saying it: "Uppercut is the best robot we've ever built." Our drivers make it look soooooo faaaast out there. I love watching us play.
Qual Match 39 is a good example which showcases the way the Robowranglers played in Colorado.
This match shows us hitting our [1 + 1.5] auton (1 in the switch, 1 in the scale, pickup a 3rd). It shows a back-and-forth scale battle with 1619, and it shows a very clear view of our new hook deployment.
This match is one of MANY examples of how great 1619's partner lifter can be. We had a qualification match with them late on Saturday morning and our original plan was that 148 would lift 7243. Part way through the match, we noticed that 7243's rope had become dislodged, and we couldn't lift them. No problem: mid-match we decided "148 will get lifted by 1619". No practice. No prior prep... just drive on and get lifted. Their coach Mike talked Coleman through it - easy peasy.
It's no wonder 1619 got #1 seed in Denver - while 148 was struggling with murphy keeping our partners from getting #Wrangled... 1619 made the buddy-climb look easy!
Thankfully, we didn't feel too bad about seeding #2. After 1619 clinched #1 on Saturday morning, they let us know they intended to pick us and we let them know we were thrilled by that. To quote Faith (one of our scout-leads, and alliance rep): "We would love to play with y'all!"
2018 has been a year for amazing partnerships. Working with 1619 felt incredibly natural. The scouts commented how easy it was to collaborate with them on merging our scouting data and making a unified pick list. Everyone was SHOCKED that one of our friends from Texas FRC5414 - Pearadox was still available in the 2nd round to complete our alliance.
Elimination Tournament
Our alliance had three very capable scoring robots - two of whom (148 + 1619) are among the fastest robots at scoring in the scale. We advanced through the quarter-finals and semi-finals, playing against many of the teams we'd met this weekend.
In the finals, we faced off against the very tough alliance of 118, 3005, and 4293. This meant 4 of the 6 "Texas Invaders" played in the final matches. Not bad, for a 52 team tournament! Our history with 118 is pretty well known as this point, but most people don't realize how much the Robowranglers love 3005 and how our stories intertwine. We've been playing with / against them for years, and last saw them in the Finals of Dallas.
To put it bluntly... We ended up losing both finals matches. I'm proud to say that we played our hearts out, and in Final 1 especially I was wow'd by the way our robot/team performed. (It's. So. Fast.)
There was certainly some "drama" involved (ask any Colorado team about main breaker placement) but in the end it just boils down to the fact that our alliance couldn't keep up. There is a lot more strategic discussion to be had, but that's for a different time...
The Outcome
How do we feel about the outcome?
I've had these conversations lots of times, especially with people from "outside" the sport who struggle to understand how this regional could be such a big success if we don't have a gold medal.
The answer? We feel great! We don't need to like the taste of medicine to know it is good for us... to know we're healthy.
Achieving our ultimate goal doesn't define our success, or our enjoyment of the tournament.
We loved seeing 118 and 3005 win, and were happy to congratulate them afterwards. I can't say enough kind words about these teams. (We're happy for 4293 also, but we haven't really had a chance to bond with them over anything besides a few practice matches, and them beating us... so it's not the world's greatest friendship, yet.)
I was shocked to find out this was 3005's first ever regional win. That seems impossible based on how well they've played and for how long. I'm confident the second blue banner will come much quicker (maybe in a few weeks?)
FRC5414 qualified for the World Championship, and as Finalists they were thrilled. It's always a powerful moment seeing your partners have that "We Qualified!" realization.
We have the same conversation after every event regardless of the outcome. We focus on our metrics for success.
Did we: Have Fun? Make Friends? Chase Excellence?
At the end of all these conversations, the Robowranglers talk about the most powerful lessons:
We took our medicine. Learned from it. We expect to improve. Every Robowrangler is looking ahead. "Wait until you see what we do, next."
Robowrangler Favorite Moments:
During our recap meeting, I asked the Robowranglers to share their favorite moments (or funny moments) from the regional. Here is a list of what they came up with...
During the day on Friday we put extra 148 battery labels on the 118 batteries. Don't worry: We kept them numbered in sequence.
In retaliation: 118 colored all the rivets on our robot gold… (thankfully the gold sharpie came right off with a little isopropyl).
"I really enjoyed messing with Parker" - Carlos
"Dude, isn't this the 2nd regional in a row you said that?" - "Yeah... It's fun"
Several Robowrangler called out the Denver MC as their favorite part. We decided he treats the regional as a one-man-show / performance-art-piece with robots as the backdrop.
"There was this one time the MC picked up a team's flag, then during the match walked into the driver station behind them and started waving it."
"Did you see his shirt-rack? This MC had multiple wardrobe changes during the middle of the regional…"
"I loved it when 118 got called out by the MC for being too serious… not like fun-loving 149."
When we went down for the alliance handshake before the finals.... there was a lot of 118-148 love. #SpaceCowboys5eva
"We were in the hotel pool swimming, and a bunch of people from 2848 showed up and jumped in with clothes on." - "This one kid had a hoodie!" - "Those guys go hard..."
"We ended up playing 'mafia' with 2848 for hours on Saturday night."
"I loved the fact that we coded up some Special Elim Autons, and tested them during the lunch break. Who needs dev time at home?"
"There was this team near us that got eliminated. Their teacher told them 'go cheer for up-a-creek' and this kid says 'but they're our rivals' and the teacher just looks at him and goes: 'GRACIOUS PROFESSIONALISM!' So he walks off all pissed off muttering to himself about 'poop creek'... "
"So apparently, I had a 'I love 118' sticker on my back all day."
There were these guys from the university security crew on the path out to the field. One of the guys kept cheering us on every time we walked out, and started telling his buddy: "That's an animal… these guys go HARD. I don't even know why they go out there... they know how this is gonna go down."
Carlos punched Coleman in the face (in his sleep).
"There was this team hanging out in the "Team Cheering Area" that meant business. It was like they were NOT LEAVING without the Spirit Award."
The A/V guys were trolling using the cameras. They would put the camera on the back of someone's head, then when that person turned around - they'd flip it to a different camera pointing at them from the back. They'd do this for like... 5 minutes. It was hilarious, but would stop being funny, then eventually... IT GOT FUNNY AGAIN! They stuck with it for so long, it got funny... again! This poor kid in a mascot suit had to keep doing it.
"They did it to us during the eliminations, so we just dragged the robot over and started being IFI corporate shills on twitch stream." - "Ohh, look at this sexy logo? You like the logo?"
"When I went through the award line, none of the judges put their hand down for me… I couldn't reach them to high-five"
"I had a trophy in my hand and someone went up for a high-five so I tried to t-rex high five him. It didn't play out the way he wanted."
One team we helped didn't know about polling the field state. They went 6/6 in auton by just guessing whether it would be red or blue.
In our first practice match, the entire drive team was surprised when the robot scored in the blue scale: "Ohhhh, we're blue. That makes sense..."
It was amazing seeing 5414's reaction to winning their first medal and qualifying for champs!
There were lots, and LOTS and LOOOOOOOTS of little kids at this event - Judges' kids, FLL kids… it was fun having them come by the pit and teaching them about robots
We put one of our spare elevators in the front of our pit. Lots of people would come by and just stare at it until we said: "You can touch it…." then they'd all mob it and lift it up and down.
We were really happy seeing 3005 get their first win. I don't think they knew what to do when we shook their hands afterwards.
Seeing 118 win... always fun...
It was great having teams come to us asking if we'd Robot Wrangle them, instead of us needing to go ask. #Wrangled
We ended up with a group of our students working with a group 1619 students to help some teams on Thursday. That was a lot of fun!
We were asked to sign the Robot Wrangler rope by a partner we climbed with.
This incredible video was put together by the incredibly talented Jeremy Thomas from FRC1619, and includes some VERY beautiful shots of 148.

I can't get enough of this video. Look how classy we seem! Jeremy - if you're reading this, thanks for putting in the effort! Also: if you want to put on a black shirt and join our team, we'd TOTALLY adopt you.
What's Next
Next, we relax for a day.... make it 2 days.
(The boss, she is generous.)
The period of relaxation is already over. We've already hard at work. We did our recap meeting: we talked about what went right, and what needs to improve.
The Mk9 intake design is already halfway done. The Mk8 started blowing through it's hard-stops. We have some ideas on how to make it stronger, while also lighter. Time for a "revolution not evolution" version!
If that fails... the Mk10 will probably just be an evolution of the Mk8...
Will we get to Mk12 and beat the betting line?
We'll be cheering on our friends who are still playing (and enjoying 3 weeks "off" in our shop).
We need to do some "rope science" to make sure they stay on (like Dallas) and don't fall off partners (like Denver).
More experimentation.
More practice.
More autons.
More.