Last weekend marked the 10th (and final) Dallas FRC Regional competition. The Robowranglers are proud to have competed in this event with 60 amazing teams. No event is perfect... but this one felt pretty good!
Dallas 2018 Regional Highlights
Robot Wrangler Stats:
9 Different Robots (5775, 6655, 5431, 3037, 6133, 2789, 5212, 7179 & 7321)
11 Climbs (1 Practice + 7 Qual + 3 Elimination)
2 Wave-Offs
0 Dropped Robots
Our Goal
The Robowrangler goal for the competition is always the same: "Win a World Championship". However we don't use this goal as our metric for success.
We have different metrics for success. We judge ourselves based on three different goals:
Have Fun - "If we're not enjoying ourselves out there, why are we doing this?"
Make Friends - "We're ambassadors for our team, sponsors, school district, and city."
Chase Excellence - "If everyone does their part, we can do something truly exceptional. You feeling it?"
By these metrics, the 2018 Dallas Regional was phenomenally successful! Of course, it's always nice to have some success within "the sport" at the same time. Happily, we've got nothing to complain about in that regard...
Want to cut to the chase? You can see match results and video of us playing on The Blue Alliance. (Spoilers: We had a good weekend.)
Day 1: Practice Day
The first day of each regional doesn't have any qualification matches. Teams just get inspected, and play in practice matches. Interestingly enough, one of my college roomie always called this day "Pit Day" whereas I always call it "Practice Day". I still think of this difference.
Are we going to have a "Pit Day" where we spend the entire time working on the robot, or are we going to have a "Practice Day"?
Thankfully... in Dallas we had a great Practice Day!
You can review our preparations for Dallas and our "plan" for upgrade Uppercut here - 2018 Day 55: Before Dallas.
The "Pit" part of the day went (thankfully) very smoothly. Sometimes the robot fights you, and sometimes it lets you have a good day. Uppercut decided we were going to have a good day. I attempted to Live Blog the Dallas regional. I made it through until we started going out for practice matches and I "got busy".
Check out what I captured before giving up - 2018 Dallas Regional: Day 1.
(I failed... failures are opportunities for learning... I learned I should not try to live blog while doing "whatever it is I do" at a regional.)
Every so often you have a regional where the robot decides to go on strike. We finish our modifications / repairs. We roll it out to the field. We get all setup... and nothing happens. The robot won't link to the field, or the robot just inexplicably won't move. I hate it when the robot goes on strike.
Although, during our first practice match we did have a problem. Apparently there was something wrong with the gyro, and so the robot went into "Party Mode" during auton.
I think every Robowrangler held their breath until it was over. After that match we got the gyro some coffee and a cold shower. There were no problems from there on out.
(We still need to tune the autons to be more consistent, but at least they didn't try to destroy the robot like the first one did).
We spent most of the day tuning in the Mk7 intake. We'd played with it in our shop on the practice robot, but this was the first time on a real field on the competition robot.
We also tried out a few totally new things... which didn't work at all. So we did some stuff, then un-did it. Everything is iterative...
Since it was a week 1 regional, most of the teams at the event were not ready to practice. As such, there were lots of open spots in matches. Knowing this: we didn't really pay attention to our practice match list. Since we were fully inspected, we just joined the "filler line" whenever we wanted to practice. Interestingly enough... at Innovation First International (our title sponsor) they put the event webcast up on the big TV in the cafeteria and announced to the entire company that "The Robowranglers are about to play." Which lead to disappointment when we didn't actually play... Oops.
"Jeez guys, if I had known you were watching we would have tried a little harder to get out there..."
We had the opportunity to play a practice match with Team 7179 - Crossfire ("Beatty Krunch") and in it we had the first ever "Buddy Hang" with the Robot Wrangler mechanism. It is hard to use the Robot Wrangler on Practice Day because we don't have much time to coordinate with partners before matches. Thankfully - 7179 still had the rope attachment on their robot from when we climbed with them on our field.
7179 - Crossfire (Beatty Krunch)
Can we talk about 7179 for a second? Real talk... this robot was incredible. Simple. Fast. Effective. Slippery. Beautifully driven. Simple. Simple. Simple. This is the perfect 3rd robot at Championship. This robot seeds at Champs! This robot picks 148 at Champs!
If your team built a scale robot, and it's not living up to your strategic goals, consider a simplifying redesign? These guys told me "we're taking your priority list to heart" and man, it seems like they nailed it.
We had a qualifying match against them, and played them in the semi-finals. Each time they were a force of nature on the field... I'm so totally in love with them. How can I not love a team that simplifies, and executes to perfection. These guys are going to be on every slide of Karthik's strategy presentation next year.
It is sad that they did not qualify for the World Championship at Dallas. I was surprised to hear that they cannot afford an additional regional, and even more surprised to hear that FIRST does not allow rookies on the wait-list anymore. I can't wait to see what they do next year.
#BeattyKrunchForIRI anyone?
Robot Upgrade Status
The Mk5 Robot Wrangler worked great. We did some initial testing in the shop with grabbing, but the first time we climbed with a partner was with 7179 in the practice match. It worked perfectly. The Mk5 design pulls in with more torque to enable a tighter grip on our partner. We also added some tools to enable us to customize the Robot Wrangler to better fit the partner we're climbing with. (We also have lots of options when we're adding our attachment straps onto partners to adjust how things will work).
The Mk7 Intake worked great. We spent some time tuning wheels / springs on Day 1, but by the end it was performing well. Overall there are some things we still want to tweak, but that's basically always true.
The "floopy" finger worked great. The refs were happy to see we had a way to visually show we were over the switch for legal scoring. They did provide some advice on how to make it more visible and requested it be "less floopy". (Hence we went back to the "riveted together" single floop design.)
They were concerned that we might use it to spear other teams, but we explained that it is "satisfyingly floopy" and encouraged them to "floop the robot" they seemed satisfied. It would probably not violate <G11> but it is always a judgement call. "Ohhhhh yeah, satisfyingly floopy..." #AllFloopyEverything
Day 2: Qualification Matches
Much of this sport depends on luck, and the random match schedule is a big part of it. Who will we partner with? Who do we play against? Do we have a hard schedule? What other teams have easy schedules? Things worked out pretty well for us. We were fortunate to be partnered with lots of incredible teams, including lots of old friends.
Interesting story, Rookie Team 7091 was told by their school district they couldn't take Friday off. So they arrived at the event for the first time at around 5PM on Friday. Several veteran teams jumped to their aid (I'm proud to say 148 was among them) and helped them get inspected before the pits closed on Practice Day. Of course... we later found out that 7091 was partnered with us in our first match on Saturday! It was incredibly satisfying to see them take the field.
Bumper Changes
Our first five qualification matches, we were on the blue alliance. Our next four, we were on the red alliance. We seeded #1, which means we would be on the Red Alliance for the entire elimination tournament. This means... we only needed to change our bumper color once the entire event.
Freaky. I've never heard of anything like that happening.
Of course... we pull our bumpers on and off all the time. We put the black ones on when the robot has downtime. We pull them off for maintenance reasons. We pull them off to inspect systems. Sometimes we just pull them off to give someone a special look at what's behind them... Still, that's crazy! I think the queuers were frustrated with us because we had no idea what "the drill" was on the red side of the field. "Sorry, sorry... this is our first match down here... sorry."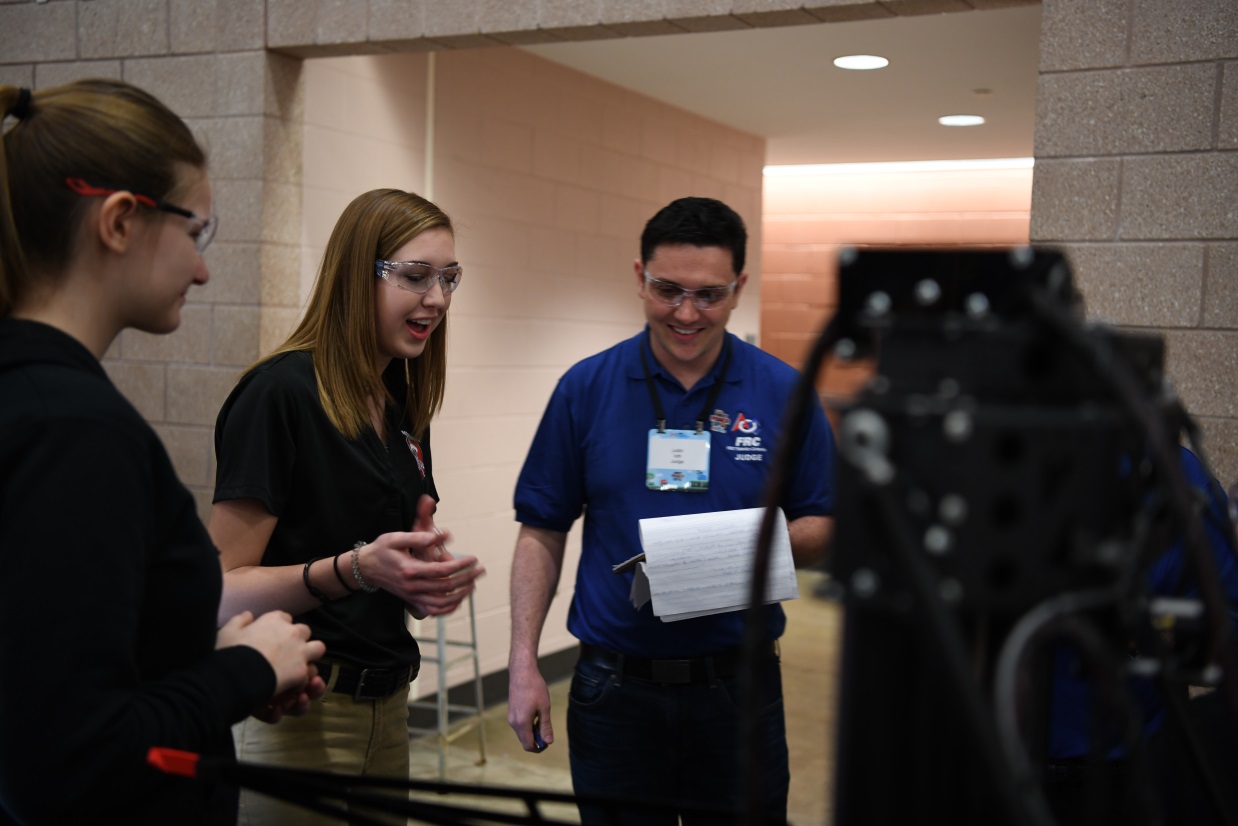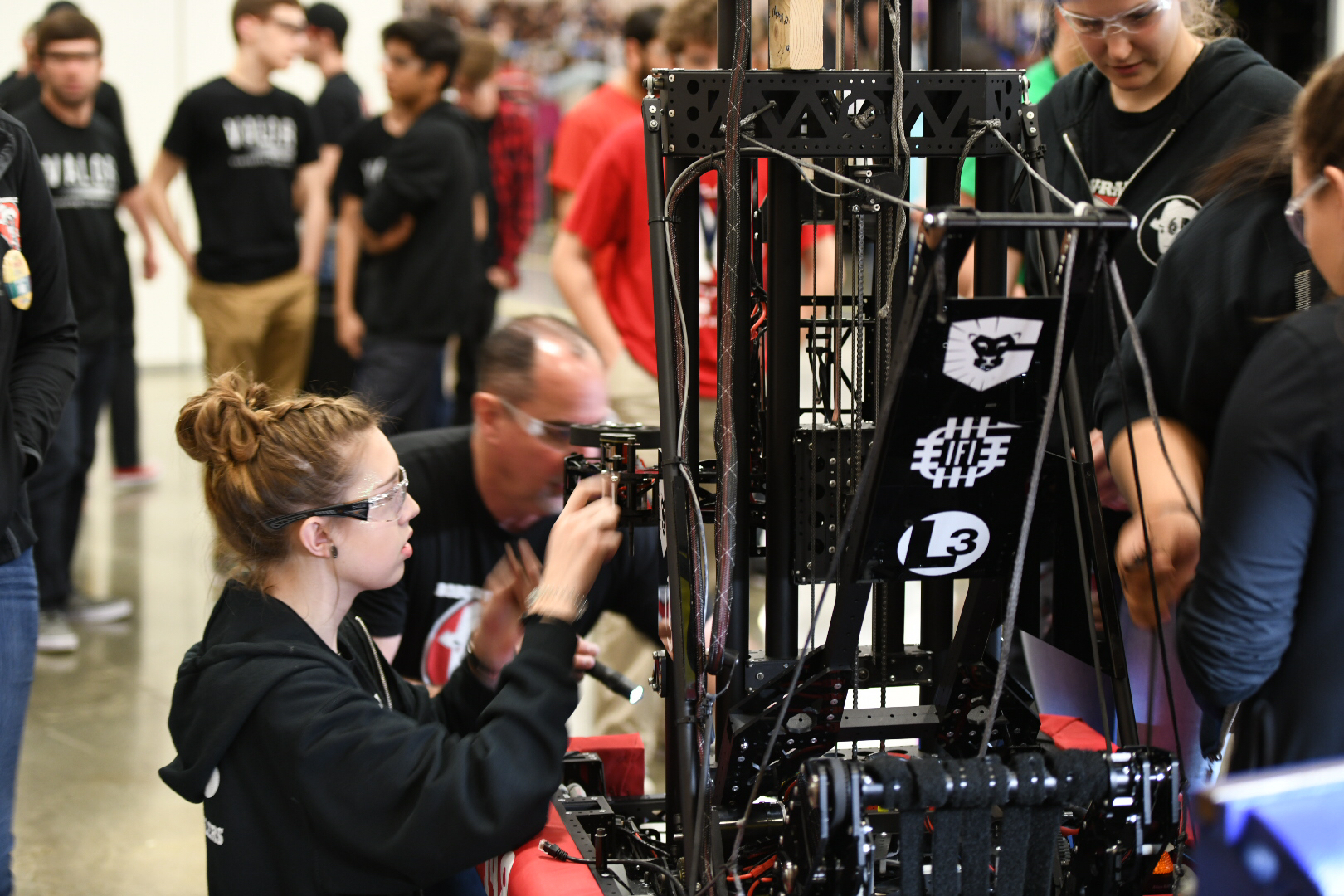 We finished the day 6-0, and once we were in the swing of things, we "Robot Wrangled" in our last 4 matches of the day. (We would successfully lift with partners in the last 7 of our 9 qualification matches).
Since we've been coming to the Dallas regional for so long, almost every team we played with had some background with us. Lots of friends on both sides of the glass. Notably, we started the weekend off against our #TeamIFI Sister Team FRC 1296 in Qual 6, had a fun qualification match against 118 in Qual 14 and a fun one against 7179 in Qual 45. We played with, then immediately against our friends from FRC 5431 in Qual 60 and Qual 68 All were fun matches.
In the evening on Day 2 after a quick team meeting the scouts held our "pick meeting". We were sitting at #1 seed by the end of Day 2, and felt like we had a good chance of being #1 at the end of the qualification rounds.
The List
The scouts collect data on every robot, in every match. They know exactly what a robot is capable of doing. They know what teams like to do first. They know what each robot's autonomous modes do. They know what routines it follows most frequently. They use this data to feed the strategy team information, and they also use it to make "the list".
At robotics competitions the top 8 teams are asked to pick partners for the elimination rounds. Who do we pick? How do you know who will complement us best? The scouts have all the answers.
Side Note: I'm a terrible scout. Ask me about the time the FRC1114 scouts let me and Derek (their coach at the time) try to scout one robot between the two of us... it didn't go well.
The pick list meeting went very smoothly. We had guests from FRC3847 Spectrum who came to Dallas to observe the tournament. When we concluded the meeting, we had a list of teams we wanted to work with, a list of teams we wanted to watch in the early rounds, and a list of questions for certain teams. "We notice... you haven't done a lot of scoring in the exchange. Do you think you can do that well? Will you get a chance to demonstrate it in any matches before alliance selection?"
Who was #1 on our list at the end of Day 2's scouting meeting?
Day 3: The Elimination Tournament
We had three qualification matches on Saturday morning, and as they progressed we became more and more confident we'd be the #1 seeded team. Eventually when it was almost certain, we approached our friends FRC118 - The Robonauts. They told us they would happily accept our request to join an alliance, and as such our two scouting teams began comparing data and making "the rest of the list."
#SpaceCowboys5eva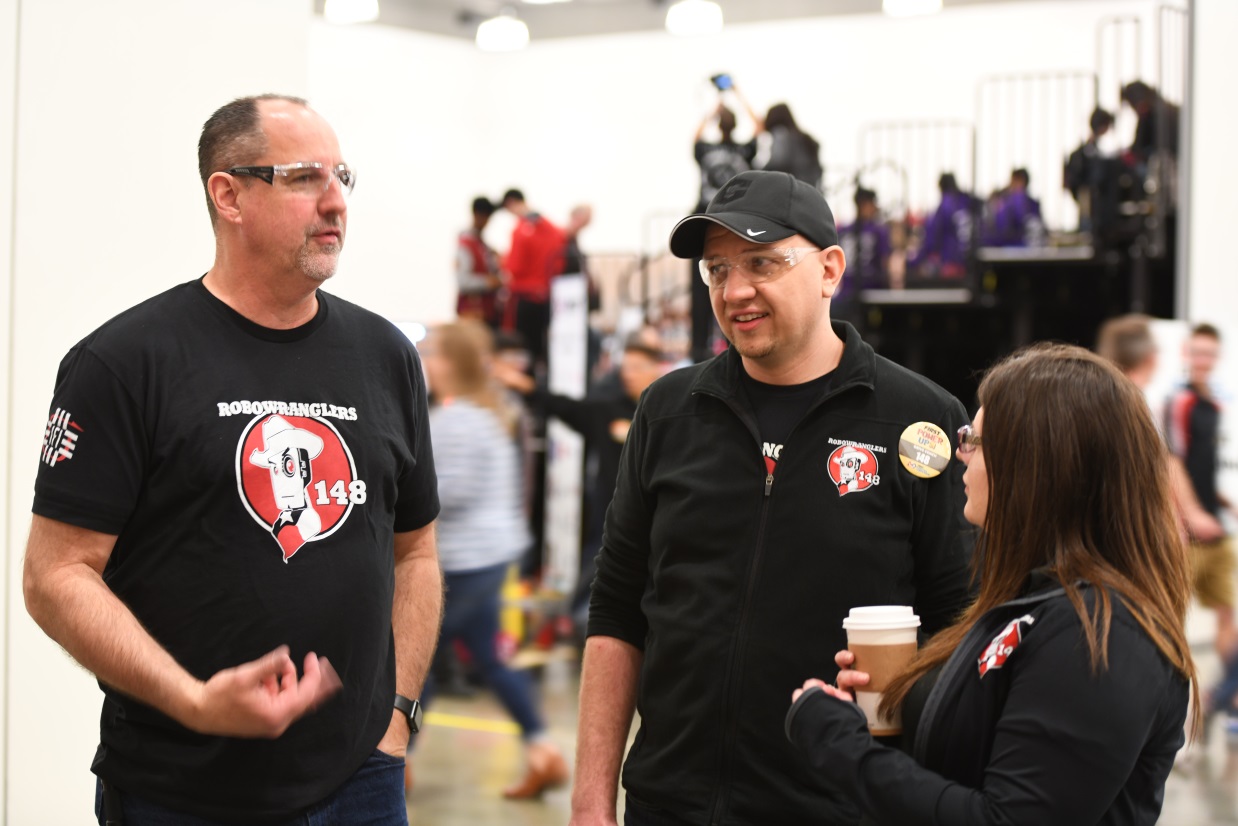 As alliance selection came to a close, and we made the final selection of the draft everyone was shocked that FRC2789 - Texplosion was still available. We love Texplosion. We've played with and against them for years. Some 118 alumni are now mentoring them, and one of those alumni Danielle is also their field coach. This was a match made in heaven...
The Eliminations
The alliance performed very well. We ended up going undefeated in the elimination tournament.
We felt a warm reception from everyone at Dallas, and loved playing there. I'm always shocked by how much support we get from our town. It feels like the stands are packed with Robowrangler alumni, and members of the Greenville community. I love how strong we "travel" to Dallas. It really is our HOME regional. I'm going to be a little sad next year that when we move to districts there will be no more Dallas Regional. (But districts in general will be AMAZING!)
Mr. Roboto
No surprise... The Robonaut Robot is incredible. I love it. I love the subtle design details. I love the system concept. I love talking to their students about it. I love them talking to my students about it. I love the different way we approached solutions to the same problem. I love the way we prioritized totally different things. I love the way we prioritized the same things but got totally different results for those things. I know it is cliche to praise a Robotnaut Robot, but "Illusion" is beautiful. I'm thankful we got to play with them at least once this season.
Favorite Moments:
I asked each of the Robowranglers to tell me their favorite moment from the Dallas Regional.
Here's what they said...
Zach:
I loved watching 3355 play. It was great that they were so successful. I've been friends with them for a while, and the fact that they built an #AllBlackEverything Everybot and then seeded 6th was really cool. It's also great to see another L-3 sponsored team doing so well on the field.
Carlos:
Hanging out with Parker from 118. He's like a legend on 148. People still talk about him and what he was like as a Robowrangler. To get to chill with him at Dallas and joke around with him and his students was really cool...
Kylie:
I got really worked up watching the faces of 1296 when they realized they were winning the Regional Chairman's Award. We love their team, and seeing them get this honor was really cool.
Noah:
There was a guy in they elevator on the way down one morning who asked me and Faith what our job was on the Robowranglers. We told him that we watched other teams' matches and put data together. He said something along the lines of us being like the FBI of robotics.
Josh:
I really loved joking around with Justin from 118 in the driver box during elimination matches. The alliance functioned really well, and everyone was having a good time. Very relaxed. It's cool to meet mentors from other teams who I can joke around with the same way I do with our mentors. I didn't know that was possible a few years ago, so it's been great to become friends with so many cool people from around the world.
Jessica:
I loved working with some of the rookies on the team at their first official competition. It was especially cool seeing Z thrive in the pit. I know how hard it can be as a rookie pit crew member, so watching Z come out of her shell was really cool. Robowrangler Pit: All the pressure in the world... zero stress.
Madison:
Little Katie came to the regional with her dad on Sunday. She walked into the pit and asked if she could help with anything. We were working on fixing the intake which broke in our last qualification match, and were replacing the spare assembly we used to fix it. She ended up building one of the replacement Mk7 intake arms and told me "I feel like I'm part of the team." She is part of the team! #GirlPowered
Ryan:
After the alliance selection I was pulled off the pit crew to help make sure TEXplosion was ready to go for the elimination tournament. It's cool to find out: they think like us. We walked up and they were already asking "What do we need to do? We want to be ready." When they heard we were going to use our climber rope and Robot Wrangler, they ripped the top of their robot off before we even knew what was going on. It was amazing to watch them so focused on doing whatever it takes.
Faith:
I really liked the 118 + 148 huddle before alliance selection. Once we knew we'd be together, we met up in a quiet corner of the lobby to talk about our 3rd robot pick. It was a lot of fun to work with them. This was my first time being a part of this process as a Scout Leader, and I loved it.
Nic:
I loved it every time we used the Robot Wrangler. Those times when the crowd had a big reaction were very satisfying. It is really cool to watch the teams we are climbing with, and see their reaction when the two robots lift up together. The whole place goes crazy!
Coleman:
There was this moment between the qualification matches and the elimination tournament when little Katie and James were playing rock em sock em robots near the pit. The quiet moments at an FRC event can be the magic ones.
Wyatt:
I was working with 7190 on Friday night. The fact that they didn't get there until 5PM, but still got inspected and were able to play their first match is amazing. IT was really satisfying to take the field. Made me all warm and fuzzy... even though they did lose their driver badges and almost didn't make it.
Fran:
I was really happy to see 7190 take the field as our partner. The entire story is just really cool.
Corbin:
When we built our scouting sheet, we knew it was "week 1" so we tried to plan for what that level of robot performance would be. We decided that no robot would do more than 15-cubes in a match, which made a lot of sense. It was pretty cool when Beatty Krunch broke the scouting sheet. We started to figure out they might do it, so everyone was almost cheering for it to happen. I've never been so happy to see a 16th cube scored.
Vincent:
When we were recognized by the Judges during the award ceremony, I thought it was funny that everyone who high-five'd us put their hands lower for me. It makes me smile thinking about it.
Kacie:
There is a judge in Dallas who is really aggressive every year. He's nice, and he asks good questions, and we like him... but he's become like a Robowrangler legend. For 9 years now apparently it's been the same every event. He charges into the pit, finds a random student, and starts grilling them. He seems like he is looking for a shy student. It was awesome seeing two things:
1. How everyone did a good job of answering his questions even when he said "SHOW ME YOUR CODE".
2. That Kroncke won a bet with Zulema when he predicted "the judge" would make a bee-line for her.
Heaven:
It was great to see the scouting camaraderie. This was my first year on the scouting team, and so I loved how everyone pulled together to do their job. We all know how important scouting is, and so even when it is hard we were all able to work together.
Hannah:
The first time we used the Robot Wrangler on practice day - I bet you could have heard a pin drop in the arena. I was down by the field with the Media Badge filming the robot, and all the other media students came by to congratulate me. "We didn't think it was real! We thought it was fake! That is so cool!" Seeing everyone realize it works was pretty cool.
Nick:
I just love everything about Beatty Krunch… They were amazing on the field, and I'm so glad our team became friends with them this year. It was sad to face them in the Semi-Finals knowing that if we won they wouldn't get to go to Championship.
Zulema:
I'm a rookie on 148, but at competition when we were working with other teams they still respected my opinions and looked to me like I knew what I was doing. I guess after the pre-season and build-season I know what I'm doing. It felt good to realize this.
SIDE NOTE: I try to make a point to tell the first year students "You're not a rookie anymore!" after their first competition.
Tolly:
After alliance selection the drive team was sent out for lunch. While we were sitting there, a paper airplane came down next to us. It was a note from the 118 drive-team saying how much they loved us. It was just such a cool little moment.

Coleman went up to them later and said "So, uhh.... I guess we're gonna be spending some time together."
What's Next?
The team took 1 day off, and met again on Tuesday (3/6) - Day 60. After every event we do a post mortem recap where we talked about what went well, and what needs to be improved.
Every sub-team has work to do to get better. Continuous improvement doesn't stop because the regional went well. We have a long road ahead of us before the World Championship. In particular the robot has a few iterations coming.
We want to tweak the intake and see if we can improve the way it holds cubes when lifting fast, while doing a robot J-turn. Sometimes the inertia of the turn opens the intake arms and it drops the cube.
We want to improve the intake "open field" pickup, without reducing how well it grabs the cubes, while also not adding extra complexity / weight.
We want to improve the "science" of the intake spring force. Right now it is too much Robowrangler Science and Magic. (Note: lots of zip-ties and surgical tubing).
We want to improve the hook deployment. We don't like the "parallel park" deployment we have right now. It is too tight of a window that our driveteam needs to hit to get the hook on correctly. We need to increase margin for error, or do a totally different design. We have some ideas in work for this already, which weren't finished in time for Dallas...
We need more auton tuning, and more auton options.
We need hours and hours and hours of driver practice. While the overall regional was great, the drive team only sees the small mistakes. They are begging "the boss" for more opportunities to practice. Spring Break is next week, and I'm pretty sure if they had their way, she would spend the entire week in the shop with them...
Bonus - Robot FAQ
We're planning to do a "ROBOT FAQ" blog post sometime soon based on all the question we were asked in Dallas (and online). If you have a question you want answered - post it up on our Social Media!