The Robowrangler activities have been falling into a sort of familiar routine: practice, programming, and preparation. On Saturday, March 31 (Day 85) the team had one of our first "all-team" huddles since the Build Season. We did our pre-mortem activity...
As I mentioned in the Denver Recap, things around the shop have been relatively uneventful. What do we do?
Driver practice and drills.
Programming and testing autonomous modes.
Prototyping small tweaks to the robot.
Scouting & data analysis
Competition preparations
Watching webcasts and cheering for our friends! (On competition days).
The most eventful thing we've done was our annual pre-mortem activity.
The Pre-Mortem
"Wait... what the heck is a pre-mortem? I've heard of a postmortem, but not a pre-mortem."
A postmortem (literally "after death" in latin) is an investigation into why something failed which takes place after the fact. The pre-mortem is the same investigation... only BEFORE the event.
The Robowranglers role-play the following: "We were just eliminated at the World Championship, how did it happen?" As a team we then did a brainstorming exercise to list as many reasons as possible. All kinds of reasons. Realistic reasons. Crazy reasons. Things that had already happened to us. Things which no one could ever imagine happening. Things within our control. Things outside our control.
This exercise can be very painful. There are lots of groans during the activity (some for comic relief, some from genuine disgust). Overall this year we had 209 items on the list. The driveteam is responsible for 197 of them. 23 items are outside our control.
My favorite reasons "Why We Lost Champs":
(these are actual items from the Robowrangler Brainstorm)
We put a Robot Wrangler rope on the wrong team
Team Plague (the team also identified who was most likely to be patient zero - we're going to make sure she's getting enough Vitamin C)
We get beached on the Corner of the Ramp
Coach spills coffee on the driver station laptop during a match
We don't believe in ourselves
Coach gets in argument with ref and is ejected from competition. (REALLY?!?)
The robot "uppercuts" the scale on it's own, because it wants to live up to its name.
Event loses power, and our black robot puts us at a disadvantage in the "blackout" matches.
Driveteam forgets what color we are, and scores for the wrong alliance.
Our human player falls asleep during a match
The scouts are sick of sitting for so long, they revolt, then decide to go rogue in alliance selection
Inspector makes us move our main breaker to the outside of our bumpers... "for safety reasons"
Coach chokes on popcorn, cannot provide good instruction mid-match
HP forgets to hit the "Levitate" button
We forgot something important in Greenville
No one gave the driveteam their sandwiches, so they start to suffer from calorie deprivation
We forgot to bring "Oilite" with us
118 prank "gone wrong"
No microwaves in our division, only fridges.
Robot gets wrong FMS color, and we do a 3-cube auton for the other alliance
As you can see, some of these are easier to avoid than others...
Here is the list of my LEAST favorite:
Death by Serpentine
Bumper falls off partner and they're disabled.
Control System Gremlins
Overwhelmed by an alliance from a stronger division
We win, but then a field fault forces us to replay the match
Refs don't call fouls correctly
"Bad" match list
Robot is lost in shipping
Robot gets damaged in shipping
(WHY are we forced to ship it from Dallas to Houston when we were allowed to drive it to Denver?)
Some of these are downright scary - especially the ones which truly are outside our control. This is why we do everything we can to "make our own luck" and hope thing will go out way. As the wise-man Bill Beatty once said: "We'll win our share..."
Championship Prep Continues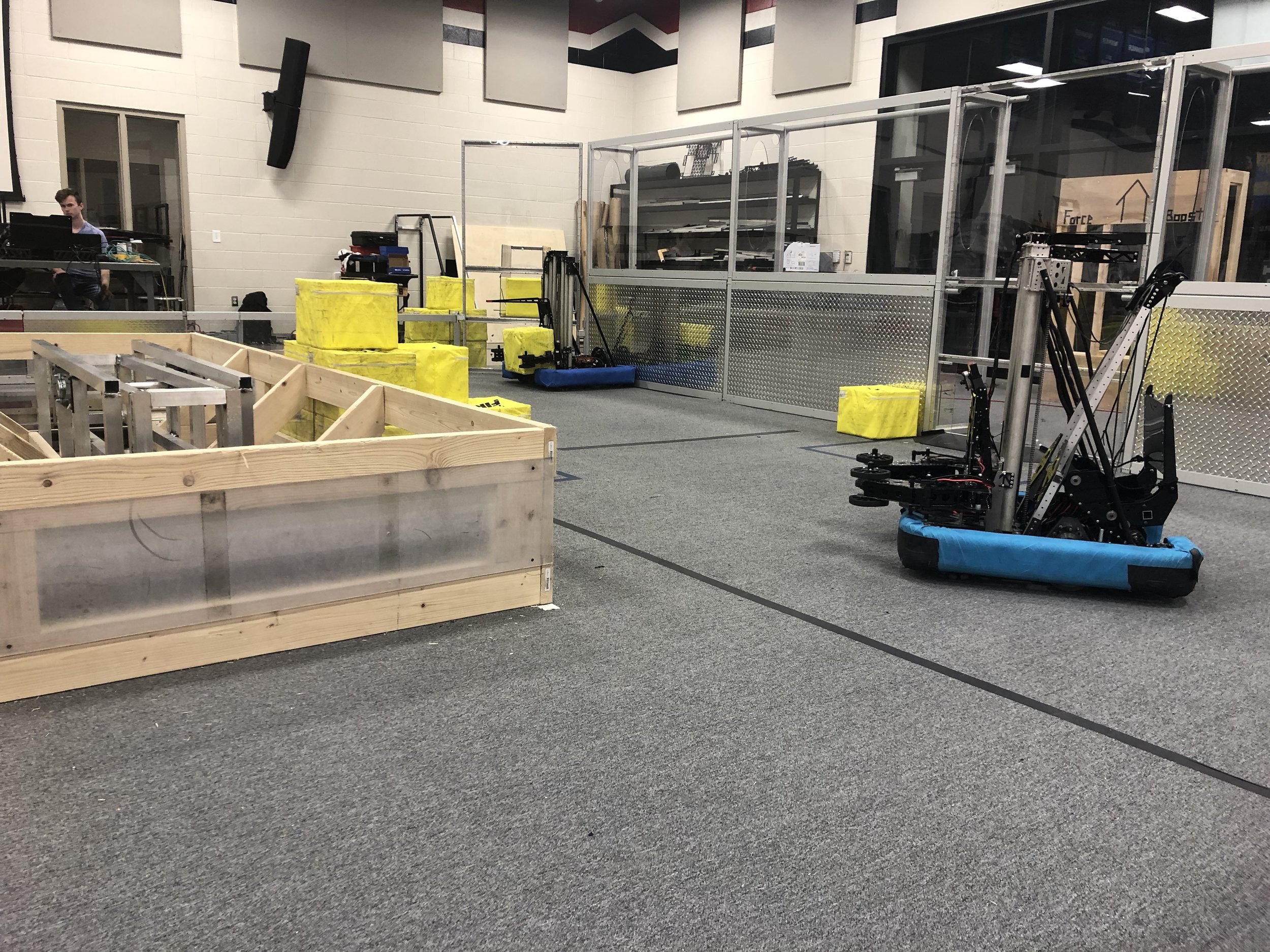 The Mk9 intake has been up and running for a while. What changed? New construction style - it's still all polycarbonate, but now we're moving away from the "tab & slot" method (lighter and lighter and lighter). We incorporated 3D printed pulleys instead of the COTS ones in the previous versions.
The Mk9 also incorporates a secondary pivot so the arms can swing "inwards" past the primary hard-stop. This means if the drivers ram it full speed into the wall, it just flexes out of the way and it's fine. I'd say "it's great that they can now do that!" but let's face it... they've already been doing it. Previously it was still fine "most of the time" but this is a happy improvement. (Especially since the intake is on the Pre-Mortem list in quite a few different ways).
Marginalia
While it would be hyperbole to say I'm the person most thrilled to see 3847 win the Alamo Regional on 4/7... I'm probably near the top of the list! As my teammate on 148 can attest, I've been the biggest Spectrum fan for a long time. "JVN... I've got some great news for you." - "No one has great news for me today... what's the problem now?" - "Spectrum is on their way to winning their first ever regional..." - "<Insert sound of childlike glee>"
Sadly, FRC159 did not qualify for Championship: which means they un-bagged their robot, and took off their Robot Wrangler strap. Thayer from their team sent me some pictures he thought I (and my readers) would enjoy...
Truthfully - we already knew the straps make good belts. One of our mentors Sidoti is usually wearing one as he walks around helping teams get prepped. I can only imagine the response teams would have to seeing him take off his belt, and then install it on their robot...
I use Waze for road navigation / traffic warnings. One of the things Waze does, is learn your driving habits and suggest destinations when you open it up. When I get in my car in the morning, it asks if I'm headed to work. When I get in my car at the end of the day, it asks if I'm headed home. At some point during robotics season, it started asking if I was headed to the Robowrangler shop... basically anytime I get in the car. "Leaving IFI at 10PM... Are you going to GHS?"
You have no idea how many people have asked: "Why don't you guys just do a plain black square as your avatar?" We probably should have just gone this way from the beginning.
Stupid Mentor Trick
I don't have any stupid mentor tricks today, but I do have a Stupid Carlos Trick!
Does your team do a Pre-Mortem activity?
You should consider it. Now is the perfect time in the run-up to Championship.